23 Nov 2022
日本国内限定セール / Japan domestic sale
2022年11月25日(金)午前0時より、日本国内限定でセールを開催します!
お買い上げ金額30,000円以上で、合計金額から10%オフになります。 チェックアウトの際にディスカウントコード P2K94J を忘れずに入力してくださいね。
[(東京コミコン行かないし)日本国内限定セール]
期間:2022年11月25日(金)から12月10日(土)
内容:合計30,000円以上のお買い上げで合計金額から10%割引
ディスカウントコード:P2K94J
[注意点]
日本国外からのご注文でディスカウントコードを利用された場合、割引分の価格を請求いたします。
海外向け転送サービスをご利用の場合、転送サービスの住所が日本国内ディスカウントコードを利用可能です。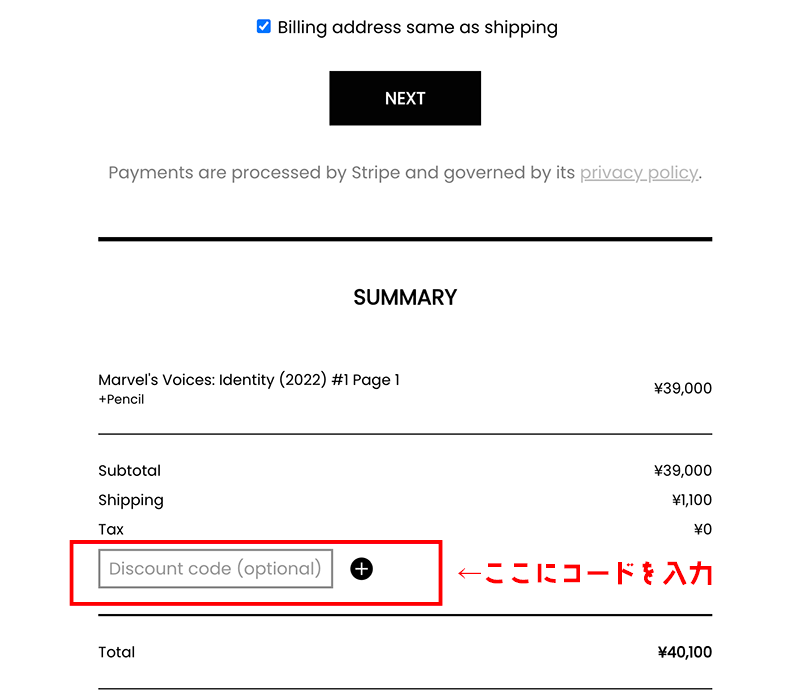 ディスカウントコードを入力する場所は、チェックアウト画面のSUMMARYというセクションにあります。
[English]
At midnight on Friday, November 25 2022, Japan domestic exclusive sale will be started!
It'll be 10% off from total purchase for spending over 30,000 yen. Don't forget to enter discount code P2K94J at checkout!
[Japan domestic sale]
date:from 25 November [Fri] 2022 to 10 December [Sat]
outline: 10% off from total purchase for over 30,000 yen
discount code: P2K94J
[Note]
If the orders from the county outside of Japan and used the discount code, the difference fee will be charged.
If you are using transfer service, the discount is acceptable to the transfer service's address is Japan domestic.
15 Nov 2022
Stop shipment for International
By the Black Friday and Holiday season rush (plus my own house moving!), for avoiding item loss and delaying, the shipping to international will be stopped. It'll be from 21 Nov 2022 to 6 Jan 2023. Order is accepted but the item will not be shipped until then. Shipping in Japan domestic is normally but as I mentioned above, it'll be take time more than usual by house moving.

I appreciate your understanding.